If you thought emoji and stickers were finished evolving, Japan's gargantuan chat app LINE has just proven otherwise with the recent launch of its new Sticons.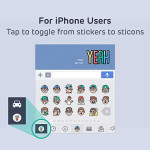 Sticons are essentially stickers, the difference being that you can also now combine a bunch of stickers together to create an emoji as well. As you can see in the screenshot above of a message sent to TruTower by our LINE USA friends, this can lead to an almost limitless combination of emotional expression in chats, especially when you consider the vast and quickly growing number of sticker options in the LINE sticker shop.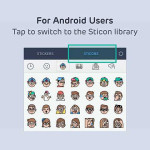 It's true that the Sticons are largely separate from the stickers, but there are already 1,400 Sticons available, and it shouldn't be too long at all before even more Sticons are being seen and enjoyed throughout the social application.
To start taking advantage of the new LINE Sticons, make sure you have the newest version of LINE installed on your device. What do you think of the new Sticons? Let us know in the comments and join the discussion in the Forums!