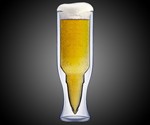 It's like the Hopside Down Beer Glass but with more of a bang. And I hear even better than a punctured aluminum can for shotgunning a Bud Light. As you can imagine, filling the the 50 Caliber Bullet Beer Glass requires minimal skill too: just point and shoot. Then take a drink and prepare to have the dual-chambered vessel blow you away. I'd say, Someone stop me, but as we all well know by now, I'd really prefer to keep going. What's that, C? Ha! My friend Cornelius says I'm fired!
You know what else I am? Drunk. As a combination reward/punishment, I downed 1 x 50 Caliber Bullet Beer Glassful of this Belgian Tripel I found in Cornelius' fridge for every 50 Caliber Bullet Beer Glass joke I made.
With 16 ounces of ammo-carved interior space, the borosilicate 50 Caliber Bullet is a beer glass for the true glassman. In addition to its eye-catching silhouette, the glass' double walls will help reduce condensation and keep hot, sweaty palms from warming the the hoppy, frothy gold inside.
The 50 Caliber Bullet Beer Glass is a top Dude Gift for a Man and Gift for Dad pick.