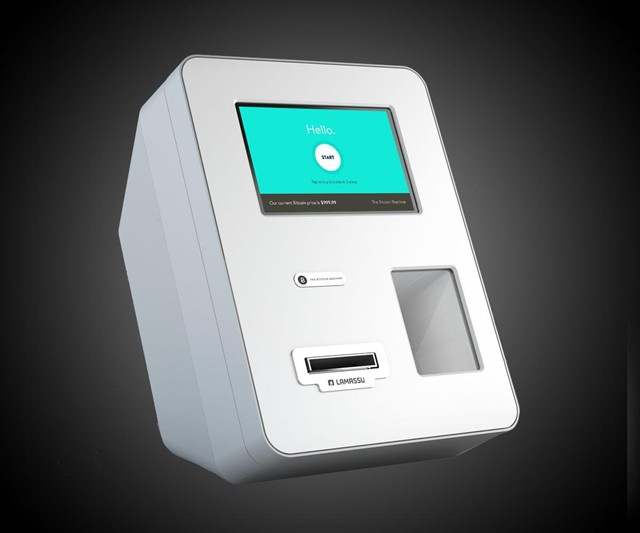 Have a bunch of pesky Bitcoins floating around the Internet? For just $6,500 Lamassu will help you get rid of them. Sell them from portable Bitcoin Machines to walk-ups, like an ATM for currency exchange. Don't worry, you'll still make a wad. Just follow bank and government models of jacking up exchange rates and charging exorbitant transaction fees.
And if you want to buy some Bitcoin? Keep your eyes out in the coming months for these specialized automatic tellers. Sure they'll probably cost you 15% to 1,000% more than other avenues of purchase, but at least with Bitcoin Machines you'll get something way better. Something we all want at all times: instant gratification.
Lamassu says its actual-to-virtual magic act happens in 3 easy steps and 15 seconds flat: 1) Scan your Bitcoin QR code in the Bitcoin Machine; 2) Insert cash--it accepts bills from over 200 countries; and 3) "You have Bitcoins! Buy yourself something pretty."
Bitcoin Machine ownership and operation may require licensing or registration in certain jurisdictions. For their part, Lamassu requires only a due diligence questionnaire of US-based operators prior to shipping. Machine owners will have a private key for loading Bitcoin (they set the ticker prices and fees) and collecting the cash out of its internal steel vault.
For those interested in launching a full-blown Bitcoin Machine business, Lamassu discounts their per-unit price to $5,500 for orders of more than 9. The company will accept Bitcoin Machine payment via wire transfer.
But they'd prefer it in Bitcoin.
Muchas danke to Uncrate.