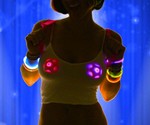 LED pasties glow so bright you can even see them through a T-shirt! So ladies can don a pair without exposing the Breasterson twins! And...wait, that's a selling point? Wamp, wamp. These pasties suck. Unless you wear them the right way, au naturel, the way God intended pasties to be worn, like the girls in my slightly NSFW gallery of additional photos above. Now those are some flashing, dancing, mesmerizing pasties I can get behind in front of.
Though inspired by music festivals and raves, Sasswear's Light Up Pasties shouldn't be pigeon holed to these non-everyday events. After all, strobing pink stars can accent a tight white V-neck on the bus just as effectively as they can a Kaskade show. The entire line of Light Up Pasties uses hypo-allergenic, reusable adhesive so no extra tape or glue is necessary to apply them, and removal is probably around 25 times easier than the One-Handed Bra Unclasp.
Light Up Pasties come in half a dozen different shapes and as many colors. The included batteries last over 20 hours and are replaceable when tapped. Sasswear also notes that their LEDs light up the pasties' entire surface area, and their rainbow flash of colors can be seen several blocks away. Like a Siren's song for male eyes. Pasties measure 2-1/2" in diameter.